Hey everyone, it's Maggie here from the Scholarship team at myCNAjobs.
Health Training Services in Texas partnered with us to award a CNA Scholarship to Janice P. Take a guess of how much she had to pay for classes? Well, Health Training Services waived the full-tuition so she attended CNA classes for… FREE! I had the opportunity to call Janice to tell her that she had been selected for the scholarship and she could not have been more excited to hear the good news. The course started soon after and she hasn't looked back. Now, after lots of hours of studying the material to prepare for tests, Janice passed the class with flying colors; everyone here at myCNAjobs could not be more proud.
Once Janice completed her 3.5 week course, we had a chance to catch up so that I could hear about her experiences with the program. Here is what she told me. "There were eight of us taking the class and our instructor, Martin Villanueva, was excellent. He kept the class alive and piqued everyone's interest. We took classes Monday through Friday from 7:30-11:30 A.M. and then one week of clinical for a total of 40 hours."
So, now that Janice has completed classes, what is her next step? Well, she plans to take the state exam in a couple of weeks and continue to work in home health. Now that she has the credentials, she can ensure she is properly taking care of all her patients. Eventually, she hopes to become an LVN so that she can even further her job responsibilities.
When I asked Janice if there was anything she wants to tell the myCNAjobs team about the CNA scholarship, she said, "I was surprised but so delighted when I received that first phone call from you. I appreciate the opportunity and this scholarship helped me further my career in more ways than one".
Well Janice, myCNAjobs is thrilled that you applied for this scholarship and we are continuously impressed with your commitment to the healthcare field. Your dedication to patients is incredible and we are excited to see what your future has in store for you.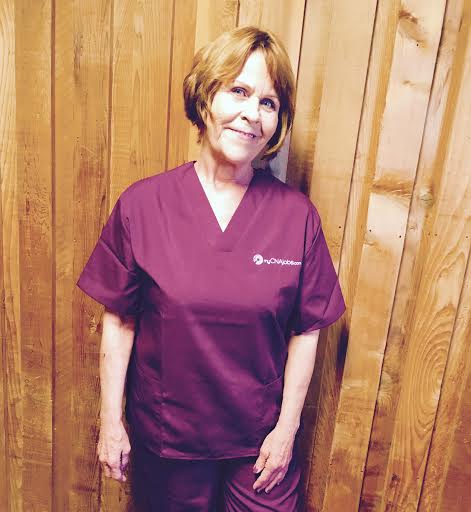 Are you interested in receiving a scholarship to become a CNA? Find CNA Classes in your area and apply here at: Scholarships for CNAs.