Comprehensive Caregiver Pay Guide
SUMMARY: CNA/HHA pay ranges from $8.55 per hour at the low end to $16.62. The median CNA/HHA pay is $11.54 per hour. The salary of a caregiver ranges from about $7.89 to $14.20, with a median salary of $9.91. Full Details are included below in the guide.

View Caregiver Pay by City
Caregiver, HHA, & CNA Pay
Caregiver, home health aide, & CNA pay varies based on experience and location.
Keep in mind that non-professional caregivers (also called homemakers) typically make less money than CNAs and HHAs on an hourly basis.
Pay grades for CNAs and HHAs are typically similar.
National Certified Nursing Assistant Pay By Experience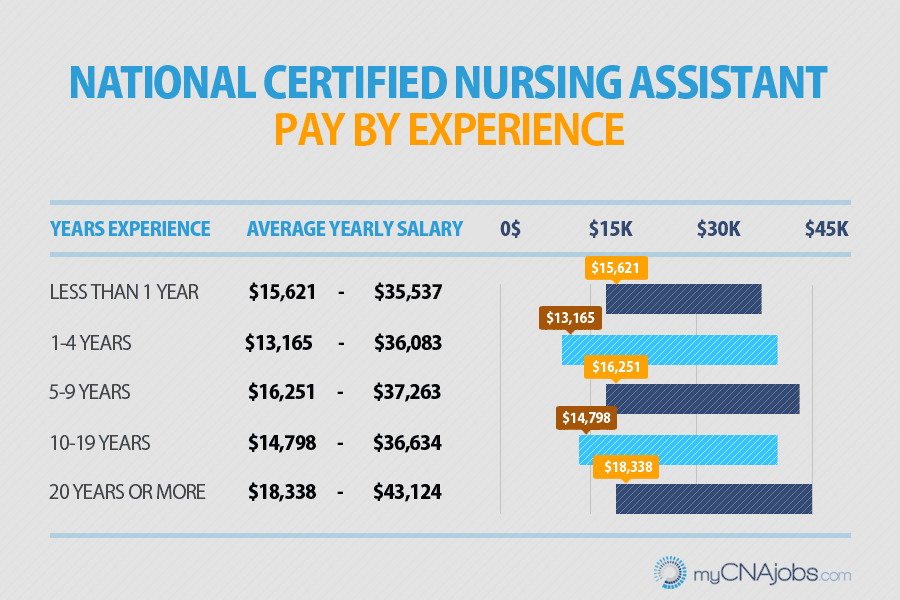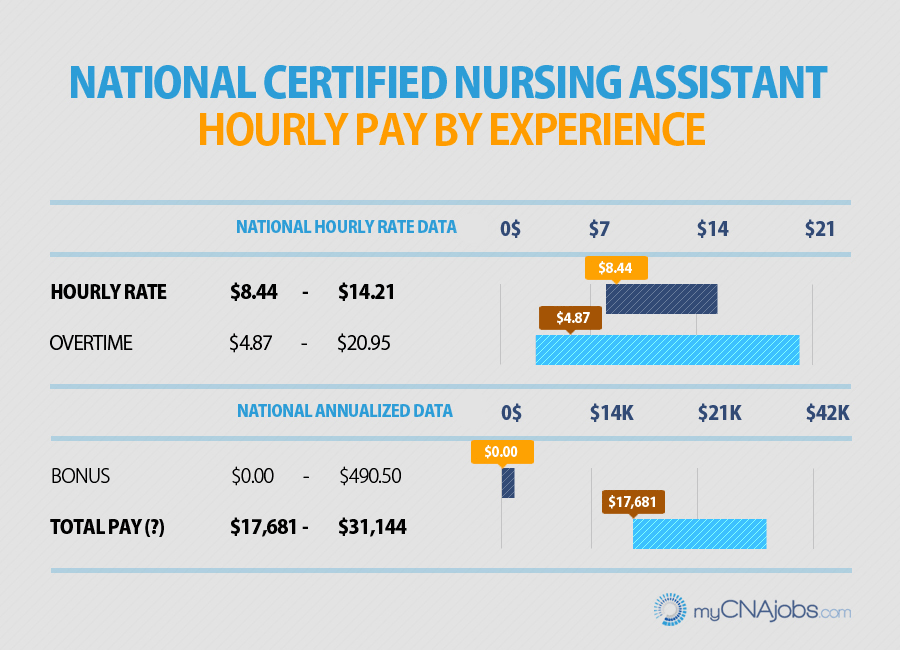 Caregiver, HHA, & CNA Pay by State
Caregiver and CNA Pay in Top Cities
Compared to the national averages for pay of a CNA, some states offer more lucrative compensation than others. When it comes to average CNA pay, CNA pay in Alaska has the highest hourly wage with median pay at $16.40 per hour, compared to the national average of $11.54. CNA pay in New York follows with 15.38 per hour. The following states have the highest CNA pay:
State
Median Hourly
CNA Pay
Alaska
$16.40
New York
$15.38
Nevada
$14.85
Connecticut
$14.49
Hawaii
$14.40
Based on median CNA pay, the following states offer the lowest paying CNA wages:
State
Median Hourly
CNA Pay
Mississippi
$9.05
Louisiana
$9.22
Oklahoma
$9.68
Alabama
$9.86
Georgia & West Virginia
$9.89

Even within the same state, CNA pay can differ by region and metropolitan areas. CNA pay in California, for example, averages $15.93 per hour in San Francisco, while the median CNA pay in Los Angeles is $11.61. CNA pay in New York City is $16.20, but the average pay of a CNA in Buffalo drops to $12.61. Factors that can influence CNA pay by region include demand and cost of living. Below are averages for the top 5 metro markets.
Average Hourly Rates for Top 5 Metros
Hourly wages according to salary.com
1. New York CNA Pay: $16
2. Los Angeles CNA Pay: $15
3. Chicago CNA Pay: $15
4. Dallas / Fort Worth CNA Pay: $14
5. Philadelphia CNA Pay: $15
Caregiver Benefits
CAREGIVER &
CNA BENEFIT
PERCENTAGE
Health Insurance
48%
Dental Insurance
39%
Vision Insurance
30%
None
49%
Caregiver, HHA and CNA Job Market & Pay Considerations
The career outlook for certified nursing assistants (CNAs), home health aides, and caregivers can be summed up in two words - in demand. With a large aging population, the U.S. Department of Labor estimates a 20% increase in caregiver and CNA jobs between 2010 and 2020, which is faster than the average for other occupations. Here are some other notable statistics regarding the CNA job field:
- 90% of CNAs are female and 10% of CNAs are male
- 11% of CNAs have less than one year of CNA experience
- 45% of CNAs have one to four years of CNA experience
- 20% of CNAs have five to nine years of CNA experience
- 18% of CNAs have ten to nineteen years of CNA experience
- 6% of CNAs have twenty+ years of CNA experience
Caregivers and certified nursing assistants are similar professions within the healthcare industry, but caregiver and CNA pay differ based on the specific job. CNAs and HHAs are required to complete state-approved certification and be licensed in the state where practicing. This license gives CNAs more authority and responsibilities than a caregiver, as well as a higher pay rate.
While the pay difference between a CNA/HHA and a caregiver seems incremental, the few extra dollars per hour add up:
| Job Type | Average Hourly Wage | Lifetime Salary |
| --- | --- | --- |
| Certified Nursing Assitant (CNA) | $11.54 | $960,400 |
| Caregiver | $9.25 | $756,000 |
| Difference in Pay: Caregiver & CNA | $2.29 | $204,400 |
The national average pay for a CNA ranges from $8.55 per hour at the low end to $16.62 on the high end. The median CNA hourly rate is $11.54. Annually, average CNA pay goes from $17,800 to $34,600 at the high end, with a median salary of $24,000.
| Percentile | National CNA Pay - Hourly | National CNA Pay - Salary |
| --- | --- | --- |
| Low | $8.55 | $17,800 |
| Median | $11.54 | $24,000 |
| High | $16.62 | $34,600 |
How to Increase Caregiver & CNA Pay
As a caregiver, the most effective way to increase your pay is through education,
caregiver training
, and finding the right
caregiver job.
Advanced
caregiver certification
shows employers you're knowledgeable and up-to-date. An investment of time—as low as 10 hours—can increase caregiver pay and make you a more competitive player in the marketplace. On the job experience is a great way to increase Caregiver, HHA, & CNA pay.
CNA pay—much like other professions—is lower when first starting out. But with additional years of experience, CNAs increase their pay rate.
CNA
Experience
Average CNA Salary
Less than one year
$7.83 - $12.27
5+ years
$8.67 - $14.49
20+ years
$9.22 - $16.51

Caregiver and CNA rate of pay also goes up when employees work overtime, weekend, evening or holiday shifts, and as caregiver and CNAs receive more training.

Looking to make more money? We may be able to help.
Apply for a new caregiver job today. Click here to apply for multiple job opportunities.
Not certified and looking to work as a caregiver? Consider online caregiver training.
Learn how to shine during your next interview. Download the free caregiver interview guide.
Sources: payscale.com, careeronestop.org, payscale.com